Who We Are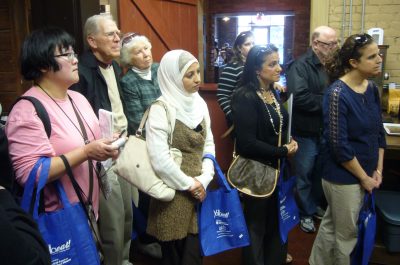 Our Mission
The Michigan Humanities Council connects people and communities by fostering and creating quality cultural programs.
In carrying out its mission, the Council encourages and supports, through advocacy, fundraising and community engagement, a variety of activities which bring humanities scholars and the public together to examine culture.

Our Vision
The Michigan Humanities Council will be known as a unifying force throughout Michigan, whose programs help people connect with one another and the places where they live, by fostering a greater understanding and engagement in the cultures, histories, and values which tell us who we were, are, and hope to be.

Programs, Grants and More
As part of our mission, the Michigan Humanities Council awards grants for public humanities and cultural programs; conducts public humanities and cultural projects of statewide importance; initiates collaborations and partnerships to broaden and strengthen the organizational and institutional base for the humanities in Michigan; and provides the humanities with leadership and a public voice in Michigan. Learn more about Grant Writing with this video.

What We Do
Support Michigan Humanities Council
You can help us ensure that the humanities remain an integral part of Michigan life for years to come with a donation to MHC. It's thanks to folks like you that we can continue connecting people through the humanities across the state. Thank You!
(Photo credit: Bri Luginbill)
Congratulations to our 2016 State Champion Lyndon DeFoe
Congratulations to our 2016 State Champion Lyndon DeFoe of University High School Academy in Southfield. Lyndon went to Washington D.C. to compete at Nationals in May. Ask your community high school if they are participating in Poetry Out Loud 2017.  Teachers can submit their Teacher/School Application now – it is available online.
Museum on Main Street – Hometown Teams
Hometown Teams, an exhibit that explores the critical roles that sports have played in our home towns and in our lives as Americans, is visiting five of Michigan's small cities to examine not only our national relationship with sports, but the local histories of each host city.  The exhibit began traveling in April 2016 and will close in January 2017, stopping at each site for an eight-week period.  See who will be hosting Hometown Teams in Michigan and when to visit.
Latest News