One title, one state and thousands engaged in literary discussion.
Michigan Humanities has just concluded the sixth Great Michigan Read, a biennial statewide literary program focusing on humanities themes. The Great Michigan Read aims to connect us as Michiganians by deepening our understanding of our state, our society, and our humanity. A statewide panel of teachers, librarians, community leaders and book lovers select the Great Michigan Read every two years.
The 2017-18 Great Michigan Read title was X: A Novel by Ilyasah Shabazz and Kekla Magoon. The 2019-20 Great Michigan Read selection will be announced in April, 2019, and partner registration will be available throughout the summer and leading up to the program kick-off in September, 2019.
2017-18 Book Summary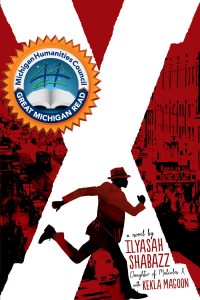 X: A Novel is a fictionalized account of the early years of Malcolm X.  Malcolm was a young man with boundless potential but with the odds stacked against him. After losing his father under suspicious circumstances and his mother to a mental health hospital, Malcolm fell into a life of petty crime and eventually went to prison. Instead of letting prison be his downfall, Malcom found a religion, a voice; and the podium that would eventually make him one of the most prominent figures in the burgeoning Civil Rights movement.
X: A Novel, is a tale of reinvention and redemption. Written by Ilyasah Shabazz, Malcom X's third daughter, and Kekla Magoon, X: A Novel is a young-adult novel with a writing style and message that will appeal to readers of all ages.  Join us as we work to explore the Michigan roots of one of the most influential leaders of the twentieth century.
Program Materials
Great Michigan Read partners receive free reader's guides, teacher's guides, bookmarks, and other supplemental materials. Schools, libraries, and select nonprofits will be eligible for free copies of the book. Contact Katie Wittenauer, Program Officer, if you need program materials. As of September 2018, there are no remaining book copies for distribution, but other resources are still available.
Action Grants
Action Grants of up to $750 are available to support Great Michigan Read programming. Action Grants are awarded on a first-come, first-served basis until the allocation of funds for the fiscal year is exhausted. The Action Grants application is currently closed.
Selection Process
The 2017–18 Great Michigan Read title was selected by seven regional selection committees representing all corners of Michigan. After reading books with Michigan themes or locations from June–September 2016, the selection committee chairs met in Lansing in October of 2016 where they selected X: A Novel as the next Great Michigan Read.
Join the Discussion by Becoming a Great Michigan Read Partner