2020 Michigan Humanities Award Winners
On September 17, 2020, Michigan Humanities celebrated outstanding contributions to the humanities in our state. We recognized individuals and organizations who have advanced the humanities in Michigan through leadership, education and advocacy. What better way to honor and recognize the important work being done in our state?
Michigan Humanities is presented this year's awards in partnership with the team from Under the Radar Michigan.
Support Michigan Humanities and claim one of these great items!
Visit our Awards donation page to support Michigan Humanities and select which tour, author visit, Zoom conversation or Michigan Humanities item you want to take home! We will close out the items as they sell out, so please make your selection right away. Thank you for your support!
Announcing the Winners of the 2020 Michigan Humanities Awards
2020 Outstanding Humanities Supporters
Dr. Willis Patterson and the Our Own Thing Chorale, Ann Arbor, MI
Born in Ann Arbor, Michigan in 1930 during the Great Depression, Dr. Willis C. Patterson had none of the childhood advantages that would suggest his eventual professional success and contributions as a humanitarian.  As an academic trailblazer, Patterson made enormous strides collecting and promoting the inclusion of African American compositions in the classical vocal canon. He instituted a course for voice majors to study African American composers that is still taught today. In 1968 he founded Our Own Thing Instructional Program (WCPOOTIP) to provide free music, dance and art instruction, instrument rentals, and scholarships. An outgrowth of Instructional Program was the beloved Willis Patterson Our Own Thing Chorale, an adult community choir dedicated to preserving and performing traditional spirituals and music by African American composers and arrangers. Patterson served as director of these organizations for more than five decades without interruption or compensation until his retirement.  More than 1,000 youngsters have benefitted from these programs.
Michael Liebler (M.L.), Wayne State University, Detroit, MI
M.L. Liebler is an internationally known and widely published Detroit poet, university professor, literary arts activist and arts organizer. M.L. has played an important role in establishing the Detroit Metro area as one of the best literary arts communities in the country. He has founded and directed many key literary organizations in our region:  The Hannan Detroit Literary Arts Center, the Midtown Detroit Literary Walk, Springfed Literary Arts of Metro Detroit, the National Writer's Voice Project of Detroit, the YMCA Arts & Humanities Initiative, and he currently serves as the Poet Laureate of St. Clair Shores.  M.L. Liebler has taught English, Creative Writing, American Studies, Labor Studies and World Literature at Wayne State University in Detroit since 1980. M.L. has a long and consistent record of engagement with the arts and producing field-changing publications that reach wide audiences. 
2020 Humanities Champions of the Year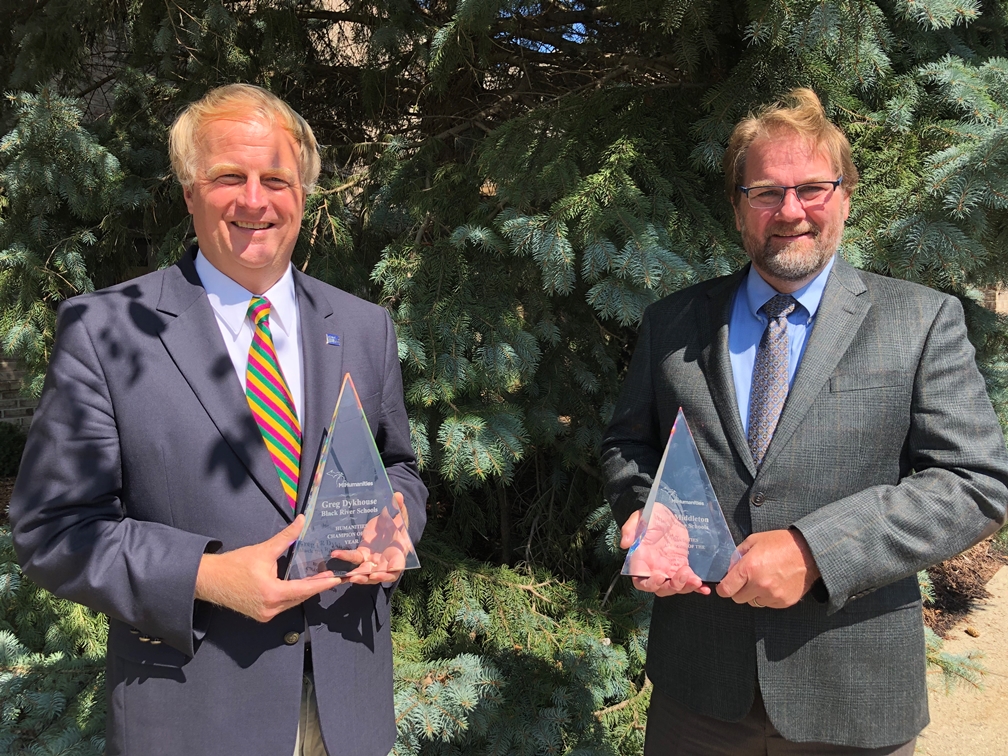 Peter Middleton and Greg Dykhouse / Black River Public School, Holland, MI
Dr. Greg Dykhouse and Peter Middleton pioneered creative work for students to build their understanding of the impact of water as a resource, as an asset, and as a public health necessity.  They led a project for Third Coast Conversations, as well as a student reading and discussion of the Eyes Don't See by Dr. Mona Hanna-Attisha.   As a culminating event, an exhibition at Black River Public School's Project Term Open House included a multi-media large scale installation performance featuring the collective work of five teachers, over 130 students, the expertise of collaborators to present Wading in the Anthropocene.  The event was well attended, packed full with families, students and community members.  The team also took part in creating the Teacher's Guide to accompany the Great Michigan Read book, "What the Eyes Don't See."  Many families, students and community members benefited from their creative leadership and curriculum.
2020 Community Impact Partner of the Year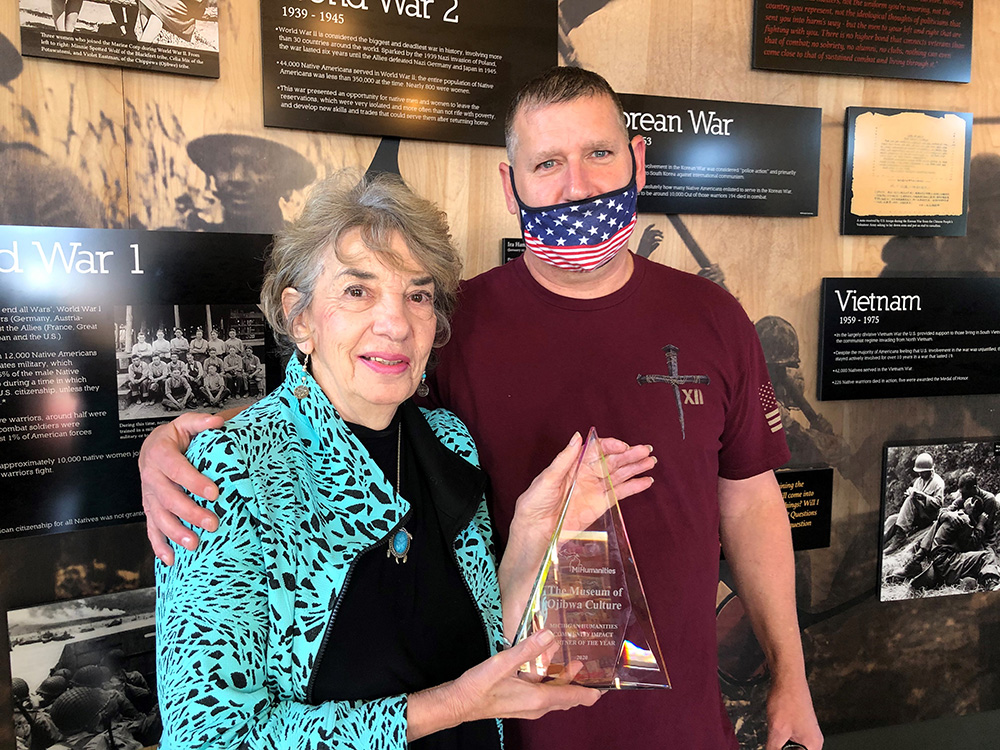 Museum of Ojibwa Culture, St. Ignace, MI
The city-operated museum and park uncovers the vivid history of life during the 1670's when the Ojibwa, Huron and French lifestyles met in Saint Ignace. Museum exhibits show Ojibwa culture and traditions, the first contact with the French and the site's rich archaeological past. Although this museum is not large in stature, compared to Michigan museums in larger cities, it is large in its commitment to create educational awareness of the travesties put upon Native Americans through colonialism.   Visitors to the museum are deeply moved; many are unaware of what happened at the boarding schools or the contribution of Native Americans in service. The museum also developing travelling exhibit, "Unlocking the Silence: The often-overlooked history of Native American boarding schools." The museum's contributions to community and state-wide have broadened people's understanding of Native American culture.
2020 Humanities Champion of the Year
Honoring Ann Marie Smith, Librarian at the Pickford Community Library, Pickford, Michigan
A posthumous award was presented to this very special person for her work in the humanities at her library in Pickford, Michigan.  Ann Marie brought so much to her community and gave tirelessly. Helping a young student feel confident about reading, helping them select books, and making everyone feel special. She was very proud of her library and her community.  Ann Marie will be missed by many.
Watch this special tribute to Ann Marie from the Pickford community:
Thank you to our generous sponsors:
Comcast
---
Founder's Brewing

---
Wayne State University
---
Maner Costerisan
MSU Federal Credit Union
Michigan Humanities Board of Directors
---
Grand Valley State University
Delta Dental
Library of Michigan
---
Access – Arab Community Center for Economic and Social Services
Public Policy Associates
Michigan Humanities Emeritus Board Members
---
Under the Radar – Michigan team!
Awards 2020
The above three awards were presented to honor and celebrate individuals, organizations and corporations that have made an outstanding contribution to the civic and cultural vitality of the State of Michigan.
All nominees met the following criteria:
Actively promotes understanding and appreciation of the humanities in the community through their work, volunteerism or leadership at cultural, civic, education or other organizations.
Exemplary outreach and/or advocacy supporting the humanities and access to the humanities.
Significant contribution to the community/state by promoting civil discourse and/or community engagement.
Awards were presented in the following categories:
Outstanding Humanities Supporter – Organization or Individual
Recognizes organization or individual that have made a lasting contribution to the cultural life of their communities or our state through their active support of and involvement in promoting public humanities.
Humanities Champion of the Year – Individual
The person whose contributions result in outstanding public humanities impact in their community and in our state. An example would be humanities person (teacher, scholar, librarian, cultural leader) who has creatively and successfully brought humanities to the public forum.
Community Impact Partner of the Year
Universities, schools, libraries, community centers and organizations who have brought to life a book, humanities project, discussion or other humanities programs in an innovative or creative way, serving their community and our state. They have championed the value of public humanities and made a lasting contribution to the cultural life of Michigan.