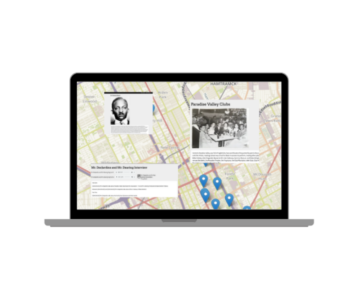 February is Black History Month and to honor it Michigan Humanities spoke to Humanities Grant recipient, the Black Bottom Archives. This project, led by Director PG Watkins and their team, has worked tirelessly to document and make accessible the history of Detroit's Black Bottom neighborhood. The comprehensive digital archive offers viewers rich and diverse multimedia resources (e.g. maps, oral histories, digital tours, photographs) for everyone to see this once blossoming Black neighborhood. The Archive also makes users aware, through oral narratives and visuals, of the displacement and removal efforts that took place to put an end to this neighborhood. Michigan Humanities is honored to share the stories of the Black Bottom Archives and to keep these memories alive. We invite you to read more about this project in the words of its creators:
Detroit's experiences with displacement, erasure, and gentrification are like many other major cities in this country. Considered one of the poorest sections of the city at the time, the Black Bottom neighborhood had hundreds of mostly-Black residents, over 100 mostly-Black-owned businesses, several schools, churches, and cultural landmarks. Hit by the process of "urban renewal" (or "negro removal" as it is colloquially known), homes and sacred spaces were demolished as the city of Detroit chose profit over people. An area that was once full of Black culture & Black life was removed for the construction of a freeway. Black business owners & residents were completely displaced and forced to move. This history was not common knowledge among young Black Detroiters until Black Bottom Archives (BBA) helped to change that narrative.
Before our online magazine & digital archive, people learned about Black Bottom if they were practicing historians, had elders who shared stories, or if curiosity brought them to dense library archives. In this contemporary era, where we are still seeing and experiencing mass displacement, demolitions, and major changes to Detroit's urban fabric, it is critical to learn from our city's history through centering and amplifying the story of Black Bottom. The Black Bottom Digital Archive and Black Bottom Street View exhibit are opportunities to share important lost histories. It challenges our communities to make important connections between historical practices of disposability and disinvestment that displaced Black communities then, and the conditions we see in our communities today.
The Black Bottom Archives Digital Archive collects the narratives, perspectives, and experiences of the historic Black Bottom neighborhood in Detroit. This project is part of BBA's larger mission to cultivate and support the development and preservation of media created by Black Detroiters for the sake of amplifying our voices, documenting our present and historical realities, and transforming the dominant narratives of our city.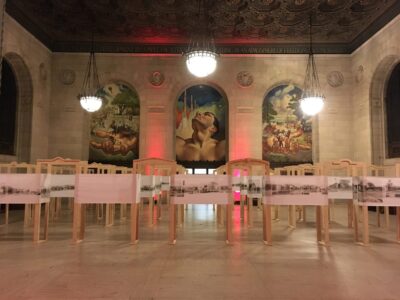 In 2018, BBA acquired the Black Bottom Street View (BBSV) project to bring the histories and the sacred spaces that were present in the neighborhood to Detroiters in real time. BBSV, named as a nod to Google street view's similar capabilities, allows viewers to walk the streets of Black Bottom. Through panoramic images, Detroiters can see the homes, businesses & lives of Detroiters in Black Bottom. Through accompanying oral histories, they can be fully immersed in a place-based experience. The Burton Historical Collection at the Detroit Public Library has an archive containing photographs of almost every building in Detroit's historic Black Bottom neighborhood. The photos were taken between 1949 and 1950—just before Black Bottom was completely razed by the City of Detroit. This unique exhibit has been housed at the Detroit Public Library's Main Branch, the Detroit Symphony Orchestra Hall, and the University of Michigan.
With these projects, Black Bottom Archives hopes to offer Detroiters and Detroit lovers of all ages and experiences an opportunity to learn about and "experience" a place that no longer exists through innovative interpretations of place-based preservation and a commitment to telling and archiving the complex histories of the Black Bottom neighborhood.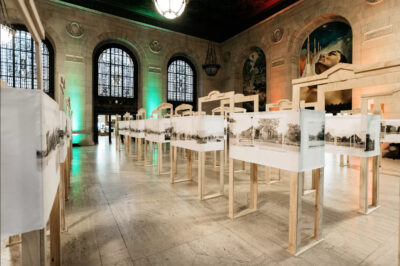 To support Black Bottom Archives, donate or become a monthly sustainer, follow us on social media (Black Bottom Archives on Instagram,Twitter and Facebook), or sign up to become a volunteer. If you or folks you know lived, worked, or played in the Black Bottom neighborhood, schedule some time to record an oral history with our team!
The work of Black Bottom Archives is made possible by community members and supporters offering generous resources of time, money and expertise, as well as grant funding from: the Michigan Humanities, an affiliate of the National Endowment for the Humanities; the Detroit Public Library Foundation; the NoVo Foundation; the Aaron Family Foundation; the Aaron W. Mellon Foundation.
Michigan Humanities invites you to visit the Black Bottom Archive's website and to support this project anyway you can: renting their street view exhibit and/or checking out all the resources listed above.
Any views, findings, conclusions, or recommendations expressed in this blog, do not necessarily represent those of the National Endowment for the Humanities or Michigan Humanities.