Prime Time Family Reading Time®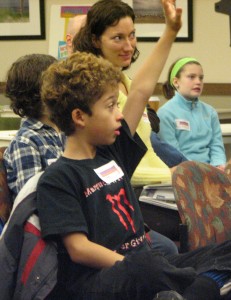 The Michigan Humanities offers grant opportunities to public libraries and public schools across the state to host Prime Time programs. Prime Time is a free six-week program of reading, discussion and storytelling that targets families of non-active library users. The program features award-winning children's literature to stimulate discussion about humanities themes and issues encountered in everyday life. Since 2008, more than 6,700 Michigan children and parents have participated in Prime Time.
How Does Prime Time Work?
Each week a storyteller reads up to three books, followed by facilitated discussion with a humanities scholar who engages participants with questions that promote critical thinking skills. At the end of each session, families keep the books that were read to create home libraries.
Programs typically serve up to 25 families comprised of parents and children ages 6-10 with separate pre-reading activities planned for children 5 and under. Programs may be presented in English or as a bilingual Spanish/English program.
Prime Time is designed to be a fun and memorable experience. Each session begins with a free meal, participants learn about the valuable resources offered by libraries, and weekly door prizes ensure families are motivated to return each week.
Prime Time Goals
Bond families around the act of reading and learning together;
Reinforce the role of family;
Encourage parents and children to read and discuss the humanities topics raised in the books;
Help parents and children become active library users; and
Create home libraries to encourage continued reading.
2011 NATIONAL EVALUATION RESULTS
Delivering quality humanities education experiences
• 6,900+ individuals completed the program
• 94.2% family retention rate across programs
Increasing public library
• 23% weekly and 17.2% monthly increase in public library use among participants*
• 78.5% participants reported a positive change in attitude towards library use
Increasing family bonding and reading
• 8.1% increase in daily reading frequency as a family*
• 85% participants reported increase in positive family interactions, or bonding
Improving reading attitudes and behaviors
• 80.4% participants reported a positive change in attitude towards reading
• 77.5% observed increase in discussion participation among the adults
• 85% observed increase in discussion participation among the children
* Statistically significant results
Learn More About Prime Time
PRIME TIME® is offered by the Michigan Humanities in cooperation with the Louisiana Endowment for the Humanities, and with support from the National Endowment for the Humanities, the American Library Association, and additional corporate and private sponsors.