At Michigan Humanities, we wanted to compile a list of recommendations of things to do this upcoming winter season—which is something that unites us all in Michigan! Furthermore, we made sure that some of these activities are free and accessible to all. We asked some of our staff members to provide their own recommendations, listed below. This is also a way for you to get to know our staff better and for us to connect with you! Please read below what each member had to say.
We wanted to be mindful that holiday seasons can be an exciting as well as a complicated time. For one, not everyone in our state celebrates the same holidays and many of us can be going through difficult situations that make it difficult to approach the holidays with the same excitement. Our heart goes out to anyone going through a difficult time right now! If you need assistance, there are Warmlines and the Mental health forum: MHA on Inspire, both initiatives led by the Mental Health America non-profit, that you can access if you ever need to talk to someone. We hope everyone takes good care and has a nice holiday season.
Ashley Ross, Director of Programs
My favorite book in 2022 was Black Cake: a novel by Charmaine Wilkerson. While I do love reading, I don't have a lot of time to read for pleasure. I may read a book every 2-3 months, but this book I couldn't put down.
Michigan is so diverse and each community within our state is unique and special. I highly encourage everyone to reach out to their local community groups and see how they can get involved and make a difference. Every person has something unique to offer whether that be their time, talent, finances, etc. In my spare time, I help write grants for local community groups. And, there are many other roles in which to get involved (e.g. volunteer in-person or through donations). The humanities are all about connecting, creating a sense of belonging, building vibrant communities and support systems for all. So, this holiday season I would encourage everyone to find a local cause they can support in whatever way they can. Here are two projects that are important to me right now: Hana St. Juliana Memorial and 42 Strong.
Estee Schlenner, Programs and Communications Coordinator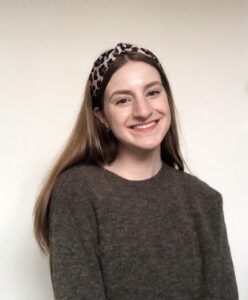 Love Radio by Ebony LaDelle is a delightful YA Novel. Set in Detroit, focused Dani gives suave Prince three dates to win her heart, but both Dani and Prince have more going on in their lives than what meets the eye. With charming characters, fun and thoughtful writing, and multi-layered storylines, Love Radio is a book to be devoured in a weekend. I love contemporary romance as a genre because it's nice to know that everything will be okay in the end. That kind of predictability is what makes the genre so comforting to read and is why it's one of my favorites.
I also recommend The River Won't Hold You by Karin Gottshall. I love to read poetry, and I especially love to read poetry in Winter. The season forces you to slow down, be quiet, and I think poetry fits with those themes so nicely. This collection by Karin Gottshall has to be one of my favorites. It invites the reader to sit with their loneliness, their memories, and inspect them. Offering beautiful imagery, it's a book that is perfect to sit and spend time with.
James Nelson, Director of Grants
I am currently reading Piranesi by Susanna Clarke. It is a modern fantasy, an overall light read so far with lots of magical elements. It is early days, and I honestly have no idea where the book is going but it promises to be a perfect companion for holiday break reading.
I am also currently reading Pajama Time! by Sandra Boynton (on a daily basis). It is an uplifting tale which let's the reader (and listener) know that just because you are going to bed the fun doesn't have to stop.
Jennifer Brown-Seagraves, Executive Assistant to the President & CEO
I am looking forward to reading Sarah Addison Allen's new book, Other Birds this holiday break. Allen is the author of Garden Spells which is one of the few books I reread for comfort. It's a charming book of magical fantasy and realism.
But, most of all during this season, I like to get out either by myself or with my family. I enjoy strolling through The Holiday Nights in Greenfield Village. I love the vintage atmosphere of the village on a winter's evening. Visitors braving the cold are rewarded with carolers dressed in period clothing, roasted chestnuts, historic buildings decorated in lights, holiday fellowship with warm beverages, and more. The Christmas & Holiday Traditions, a Frederick Meijer Gardens and Sculpture Park in Grand Rapids is a cool holiday exhibition which honors the cultures and holiday traditions from around the world. Plus, as an animal lover, I like to coordinate my visit on the select Saturdays they offer the reindeer experience where visitors can get up close and perhaps interact with live reindeer. You can also bring your family to The Wayne County Lightfest—a drive-through holiday light display on Hines Drive. I like to fill the car with family, play Christmas music on the radio, and slowly drive through the large, lighted Christmas displays. There is opportunity at the end for children to visit Santa. Don't forget to bring a thermos of hot chocolate!
This season is also a good opportunity to volunteer at the Christmas Day Delivery of Meals on Wheels for senior citizens who are homebound. Meals on Wheels is a daily food delivery program available so that no senior goes hungry. While the program has volunteers year-round, they always need additional help during the holidays. I have been volunteering to deliver meals on Christmas for over a decade, first in Wayne County and now in Livingston County where I currently live. Not everyone has family or friends that they can spend the holidays with. This is my opportunity to not only deliver meals to homebound seniors, but also to engage with them socially if they like.
Jennifer Sierra, Research & Evaluation Consultant
The Heart Has Its Reasons (Misión Olvido) by Maria Dueñas was a book that really resonated with me this year. This novel helped me learn about the Catholic Spanish Missions in the West Coast through the eye of a woman who grapples with aging and finding her feet again after her entire world is shaken. Her voice is one of an outsider to the U.S. which I can also relate to. I can see this book fitting the mood of wintery evenings.
I also always enjoyed how many parks and trails were available in Michigan. I would encourage anyone to look up trails and parks nearby to visit, as well as museums! My favorite park to visit was the Matthaei Botanical Gardens in Ann Arbor. Lastly, if you are doing some holiday shopping, I would recommend you to check out Indigenous artists and buy their products. Michigan is home to 12 federally-acknowledged Indian tribes. You can find some of these Indigenous artists by doing an online search, for instance, I recommend taking a look at the Anishinaabe artist Caitlin Newago and her Bizaanide'ewin store, she offers different products featuring traditional Ojibwe florals such as in this holiday puzzle. I also recommend checking-out the Xapiri store for supporting Indigenous Amazonian art.