Michigan Humanities has been an eager listener in the conversations taking place at a national level around racial inequalities in our country. In our role as statewide collaborators, we realized the need for reviewing our own policies, the staff and Board team, and our grant and program offerings to learn how we could enact principles of diversity, equity, and inclusion in everything we do. At the same time, we want to better serve the diversity of communities throughout the state of Michigan. To this end, we created a Diversity, Equity, and Inclusion Action Council that will meet frequently from October 2020 through April 2021. For this Action Committee we invited five leaders who in their work are committed to equity for underrepresented communities.
We invite you to meet Eric Hemenway, Katena Cain, Antonio David Garcia, Shannon Polk, and Jennifer Sierra.
Eric Hemenway is an Anishnaabe/Odawa from Cross Village, Michigan. He is the Director of Repatriation, Archives and Records for the Little Traverse Bay Bands of Odawa Indian, a federally recognized tribe in northern Michigan. Hemenway works to collect and preserve historical information for LTBB Odawa. That information is used to support the LTBB government and create educational materials on Odawa history, such as: exhibits, signage, publications, presentations, curriculums and media. He is an emeritus advisory board member of Michigan Humanities.
"I am deeply honored to be part of this group and to lend my expertise to the work that is yet to come. And the work is plentiful, unfortunately. Diversity, Equity and Inclusion is not experienced by all in this country, especially Native American populations. As natives make up only 1% of the U.S. population today, our voice and perspective is often left out. Being able to bring a native voice to these conversations is encouraging. I look forward to learning from other communities in the state and working together to recognize, respect and encourage our differences." – Eric Hemenway
Katena Cain is a Management Consultant skilled at helping diverse groups and communities think creatively and collaboratively together. She empowers people to translate conflict and differences into creative breakthrough. Katena specializes in leadership and team development, board governance, strategic planning and communication. She is skilled in Cognitive Coaching, is a certified Bridges Out of Poverty trainer, and is a co-creator of a statewide Diversity, Inclusion and Equity toolkit. Katena holds a Bachelor's degree from Michigan State University, a Master's degree in Organizational Management from Spring Arbor University, and a PhD in Organizational Leadership at Grand Canyon University.
"Being selected to serve on this committee is an honor. Advancing the work of diversity, equity and inclusion within organizations is something that I am passionate about. It is my belief that nonprofits cannot meet their missions if they don't fully embrace equity, diversity and inclusion." – Katena Cain
Antonio David Garcia is the Executive Director of Affirmations in Ferndale, a center focusing on advocacy and rights for the LBGTQ community+. David has served as Executive Director of Affirmations twice, returning to help the Center through challenges after serving as Director of Policy for the LGBT Center in Los Angeles, the largest center of its kind in the nation. David recently completed a bike ride across Michigan to raise funds for the Affirmations Center.
Shannon Polk is a current board member for Michigan Humanities, and a successful consultant, Pastor, Attorney and Advocate. Shannon is a consultant specializing in communities of color and faith-based nonprofits. A quote from her website: "The intersectionality of my race and gender has equipped me to view philanthropy outside of traditional contexts. I honor local, community-led forms of giving from those who are not wealthy but give generously to local and national causes. The cumulative impact of grassroots giving should be uplifted and celebrated." Shannon hails from Flint, Michigan.
"The Michigan Humanities understands the need to be relevant to all of its constituents and under the leadership of Shelly and this Action Council we are embarking on a new chapter to listen, educate and become truly representative of all the voices throughout the state of Michigan. I am truly excited to be part of this process!" – Shannon Polk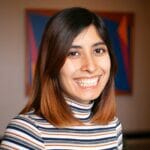 Jennifer Sierra is a Colombian immigrant and a PhD candidate in Linguistic Anthropology at University of Michigan. Jennifer is currently an intern at Michigan Humanities, but serving on the DEI Council in her capacity as a scholar. She received her Bachelor's degree in Anthropology and Linguistics from the University of Florida. In her doctoral research, Jennifer works with the Shipibo-Konibo indigenous group in the Peruvian Amazons. She also collaborates with the non-profit organization ARIAP (Asociacion de Raices Indigenas Peruanas) as a grant writer.
"I am excited to be part of this Action Council working alongside very experienced and inspiring members. The work that this council is set out to do is extremely relevant as the Michigan Humanities programs are meant to serve and represent the entire state of Michigan." – Jennifer Sierra