Previous Titles & Materials
2019-2020: What the Eyes Don't See
What the Eyes Don't See is Dr. Mona Hanna-Attisha's account of her discovery that Flint's children were being poisoned by lead leaching into the city's drinking water. Dr. Mona's willingness to fight for children and tirelessly advocate for change in and beyond Michigan is powerfully evident as she follows the science and her young patients' experiences to uncover one of the state's worst public health catastrophes.
2017-18: X: A Novel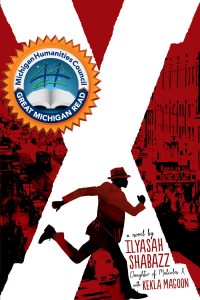 X: A Novel is a fictionalized account of the early years of Malcolm X.  Malcolm was a young man with boundless potential but with the odds stacked against him. After losing his father under suspicious circumstances and his mother to a mental health hospital, Malcolm fell into a life of petty crime and eventually went to prison. Instead of letting prison be his downfall, Malcom found a religion, a voice; and the podium that would eventually make him one of the most prominent figures in the burgeoning Civil Rights movement.
X: A Novel, is a tale of reinvention and redemption. Written by Ilyasah Shabazz, Malcom X's third daughter, and Kekla Magoon, X: A Novel is a young-adult novel with a writing style and message that will appeal to readers of all ages.  Join us as we work to explore the Michigan roots of one of the most influential leaders of the twentieth century.
2015-16: Station Eleven
Station Eleven is the story of the Traveling Symphony, a troupe of Shakespearean actors and orchestral musicians traveling the shores of the Great Lakes in a post-apocalyptic Michigan. Striving to maintain their humanity in the altered landscape of a world where 99% of the population has been wiped out by a flu pandemic, the Traveling Symphony operates under one credo: "Survival is insufficient."
Station Eleven is set in a world turned upside down, but is ultimately an exploration of people surviving and remaking their lives by preserving the qualities that make us human: culture, art, and the humanities.
2013-14: Annie's Ghosts: A Journey into a Family Secret
Annie's Ghosts, by Detroit native and Washington Post Associate Editor Steve Luxenberg, is part memoir, part detective story, and part history. As the author tries to understand his mom's reasons for hiding her sister's existence, he takes readers on a journey into his mother's world of the 1930s and '40s, where he explores how a poor, immigrant family manages life with a child who has special needs.
Annie's Ghosts is a story about family secrets, personal journeys, genealogy, mental disability and illness, poverty, and immigration. It is a story of re-framing one's self-understanding once a family secret is revealed, providing insight into how our identities are shaped by learning something shockingly new about our family history.
2011-12: Arc of Justice: A Saga of Race, Civil Rights, and Murder in the Jazz Age
Arc of Justice, by Kevin Boyle, is a masterful recounting of a landmark historical event, culminating in an epic legal battle that helped lay the foundation of the civil rights movement.
In 1925, African American physician Ossian Sweet purchased a home in a white neighborhood in Detroit. Determined to protect his family and property, Sweet chose to defend himself from the mob organized to drive him out.
Arc of Justice provides essential historical background as Americans continue to confront issues of tolerance and equality.
2009-10: Stealing Buddha's Dinner: A Memoir
Stealing Buddha's Dinner is a memoir that chronicles author Bich Minh Nguyen's migration from Vietnam in 1975 and her coming of age in Grand Rapids, Michigan, in the 1980s. Along the way, she struggles to construct her own cultural identity from a menagerie of uniquely American influences.

2007-08: The Nick Adams Stories
The Nick Adams Stories is a literary masterpiece literally made in Michigan. The author, Ernest Hemingway, spent the majority of his first 22 summers in Northern Michigan. These experiences played an essential role in his development as one of the world's most significant writers.
The Nick Adams Stories chronicle a young man's coming of age in a series of linked short stories. As Nick matures, he grapples with the complexities of adulthood, including war, death, marriage, and family.