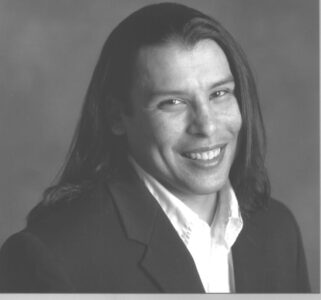 Ethriam Brammer is a literary translator and scholar of U.S. Latinx literature, Assistant Dean and DEI Implementation Lead for the Rackham Graduate School at the University of Michigan and beloved Michigan Humanities Board member. In 2023, Ethriam will lead us as Michigan Humanities Board Vice Chair. This month, we wanted to talk to Ethriam to learn about his work regarding Diversity, Equity, and Inclusion practices and what this can mean in a multi-cultural, multi-lingual state with complex and long histories such as Michigan.
Michigan Humanities remains committed to prioritizing and advancing Diversity, Equity, Inclusion, and Accessibility practices and we are most excited to actively work with Ethriam to achieve these goals. We invite you to read the full interview below.
Ethriam, what does Diversity, Equity, and Inclusion work mean to you? And what can this work mean in a state such as Michigan?
For me, diversity and inclusion mean that we are sure to lift up all voices and empower all divergent perspectives to be heard, valued, and appreciated. Equity means that opportunities are fairly shared and distributed across these many diverse groups and communities that maintain different perspectives and experiences.
Given the rich history and diverse traditions that comprise Michigan's kaleidoscopic cultural mosaic, it's an incredible honor to do DEI work in our state. From the centuries of Native presence and stewardship of this land, which continues today, to the contemporary mix of European, African, Latin American, Middle Eastern, and Asian migrations, the story of our state is as complex and diverse as the various communities that now co-steward this beautiful region we all call home.
For many organizations and institutions, DEI work can be daunting as it seeks to completely transform our workspaces and habits, how would you recommend people get started on this work? What are good places to start? And what are good indicators that Diversity, Equity, Inclusion and Accessibility efforts are working at a given institution?
Like any journey, the most important step is the first one. And then, you have to commit to keep putting one foot in front of the other, come what may. It's also important to note that this journey, like so many in our lives, will take many twists and turns and will be full of obstacles and challenges; so, you have to remain committed and resilient–especially when you realize that the DEI journey is really a process more than a map-dot destination.
Of course, like any journey, it starts with planning. So, DEI strategic planning is essential. You also need to measure your progress. How do you know you are getting closer to your planned destination? What are the other map points on the way? What's the speedometer reading? What about the odometer? What are the specific metrics that indicate you are becoming more diverse, equitable, Inclusive and Accessible?
You are also a literary scholar and Assistant Dean and DEI Implementation Lead for the Rackham Graduate School at the University of Michigan, what are your proudest moments so far in your career?
Fortunately, there have been many in my career. As a literary translator and scholar of U.S. Latinx literature written before the Civil Rights Era, the publication of my numerous English translations of important works of Latinx literature are a great source of pride for me, especially knowing that these vitally important works of American literature would largely remain inaccessible to many in the U.S. if they were not translated into English.
Similarly, as an author of bilingual children's books, I am quite proud of the fact that many young people across the nation are able to read my children's books in their schools and at home; and, I hope they provide young people from the Latinx community a greater sense of belonging and empowerment to see stories from their own communities represented in literature. For the same reason, I am also very proud of the work we have done to celebrate El Día del Niño/Día del Libro as a way to promote family literacy within our Latinx communities throughout Michigan.
Finally, as a DEI practitioner in higher education, I am extremely proud of leading important anti-racism, anti-ableism, and gender inclusivity efforts at U-M, such as discontinuing the use of the GRE in doctoral admissions, creating a new anti-racism research fellowship for graduate students, conducting and publishing the first needs assessment for graduate students with disabilities, and enhancing gender inclusivity throughout the graduate admissions process to support the sense of belonging of graduate students who identify as members of the LGBTQIA+ community.
Lastly, you were recently voted in as Michigan Humanities Board Vice Chair for 2023, congratulations! What are your hopes for this role?
Thank you. It's a true honor and privilege to have been elected to serve in this important role. As Vice Chair, I hope to support the Michigan Humanities team to achieve their mission to promote the arts and humanities throughout our state.
Of course, given my own area of expertise and advocacy, I hope to support the MH team in reaching their DEI goals, where resources are equitably distributed across the state to lift up all of our many diverse voices, so that we all feel seen, valued, and included.