with
Darius Colquitt as Malcolm X
Noah King-Bates as Rashad & Dr. Martin Luther King Jr.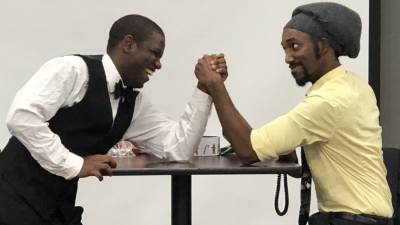 "Fascinating and dramatically compelling, this eloquent play depicts the supposed meeting of two of the most important men of modern times: Malcolm X and Dr. Martin Luther King, Jr. Differing in their philosophies, but alike in their mutual respect, the two men debate their varying approaches to the same grave social problems, both prepared to die for their beliefs but neither aware of how soon their assassins' bullets await them"
The following two 10-15 minute scenes from the play fit perfectly with the 2017-18 Great Michigan Read X: A Novel by Ilyasah Shabazz and Kekla Magoon
Scene One: Malcolm's Dream
It is a late night in Harlem 1965. MALCOLM X sleeps in the chair of his NYC Hotel Room,
restlessly awaiting a special arrival. He awakens from a nightmare that leaves him consumed.
Scene Two: Legends Settle the Score
After a heated night of debate, KING & X unpack their emotional charges & settle the score.
[pullquote2 style="left" quote="dark"]"This was stupendous!"  David Schrock from Grand Haven[/pullquote2]
Bookings are subject to the company's availability. The full play is an option as well for an negotiable fee.
$800.00 plus mileage for locations over 50 miles from Grand Rapids.
Contact: www.ebonyroad.org