Tajah-Rayne Davise from Calumet High School has been named the 2019 Poetry Out Loud State Champion for Michigan after completing three rounds of the annual recitation competition at the Lansing Crowne Plaza on Friday, March 1, and Saturday, March 2. Davise took top honors among 33 of her peers, reciting Love (III) by George Herbert in the final round. First runner-up is David DeBacker of Detroit Catholic Central High School, second runner-up is Grace Garver of Petoskey High School, and third runner-up is Soja Kureekkattil, of Rochester High School.
Now in its fourteenth year in the state, Michigan's Poetry Out Loud program is coordinated by Michigan Humanities through a partnership with the Michigan Council for Arts and Cultural Affairs.
"Each year, students arrive at the State Finals with extraordinary energy and passion for poetry, and we have the pleasure of seeing them showcase their recitation skills," said Shelly Hendrick Kasprzycki, Michigan Humanities President and CEO. "Each student should be so proud of the hard work and courage that they have displayed; we are so impressed by this year's competitors," she continued.
As State Champion for Michigan, Tajah-Rayne Davise receives a $1,200 cash award, a $1,500 stipend for her school's use in supporting poetry education, and an all-expenses-paid trip to Washington, DC, to represent Michigan at the national competition and compete for a $20,000 award. The National Finals will be livestreamed via poetryoutloud.org on April 30 and May 1, 2019.
David DeBacker, First Runner-up, will receive $600, with $700 for his school. Grace Garver, Second Runner-up, will receive $200, with $200 for her school. Soja Kureekkattil, Third Runner-up, will receive $100, with $100 for her school.
Student and school prizes at the state level are funded by the National Endowment for the Arts and the Liesel Litzenburger Meijer Fund. Support for Poetry Out Loud in Michigan is provided by the Michigan Humanities, Michigan Council for Arts and Cultural Affairs, Poetry Foundation, National Endowment for the Humanities, and Meijer.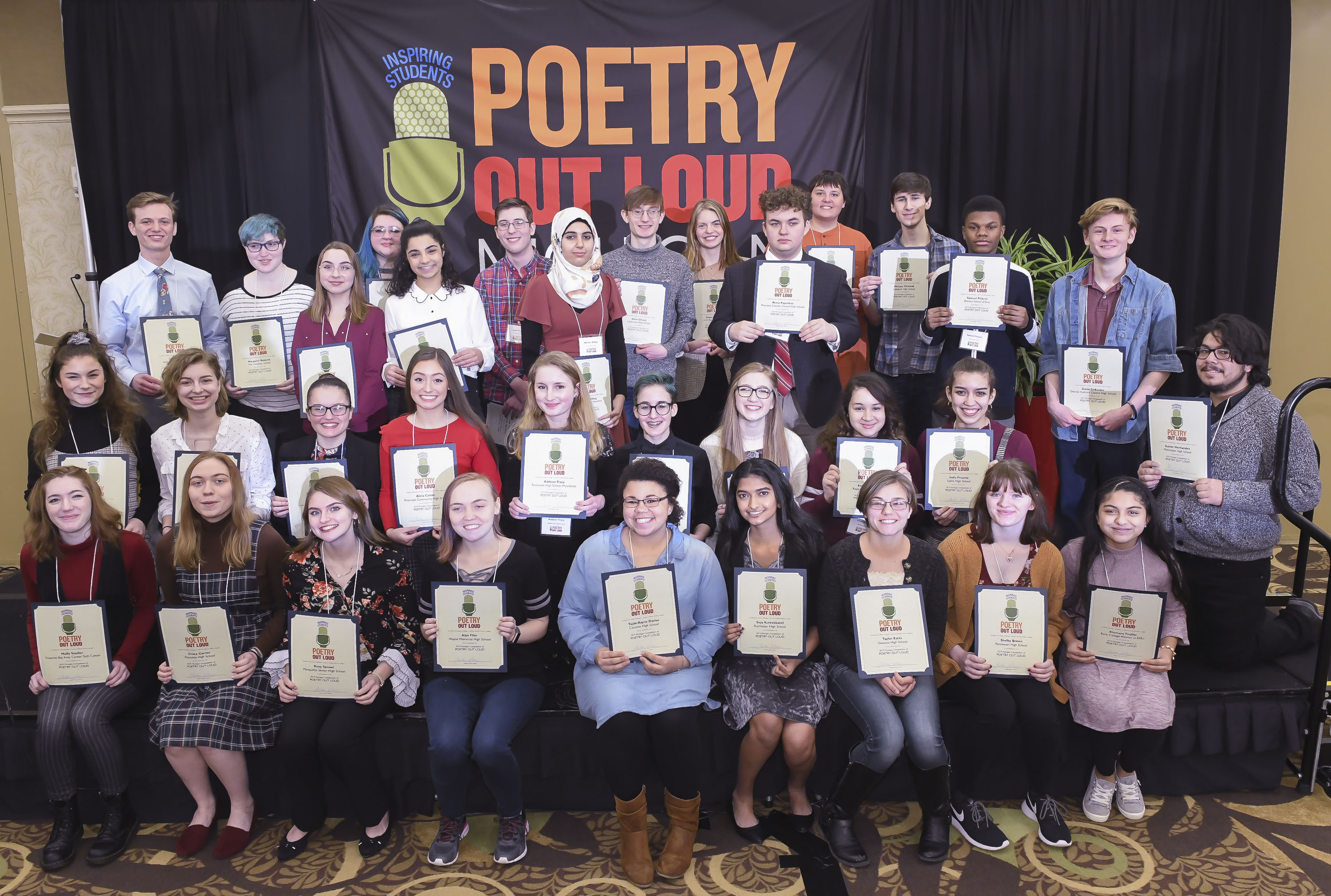 Poetry Out Loud is open to all high schools and home school groups, and registration for the upcoming program will open in early fall, 2019. If students, teachers, or families would like to learn more, details are available via www.michiganhumanities.org or by calling (517) 372-7770.
Please join Michigan Humanities and the Michigan Council for Arts and Cultural Affairs in celebrating the new State Champion, Runners-up, and each of the School Champions who participated in the 2019 State Finals.
2019 Poetry Out Loud School Champions
| | | |
| --- | --- | --- |
| NAME | HIGH SCHOOL | CITY |
| Emily Hammock | Allen Park High School | Allen Park |
| Sofia DeSanto | The Academy of the Sacred Heart | Bloomfield Hills |
| Tajah-Rayne Davise | Calumet High School | Calumet |
| Nisreen Alibeg | Star International Academy | Dearborn Heights |
| Samuel Pickens | Detroit School of Arts | Detroit |
| Margaret Roberts | The Leelanau School | Glen Arbor |
| Laine Kibler | Black River Public School | Holland |
| Ilya Holden | Houghton High School | Houghton |
| Allen Gibson | Lakewood High School | Lake Odessa |
| Lillian Powell | Kensington Woods Schools | Lakeland |
| Ivan Paciorka | Leland Public School | Leland |
| Reese Papenfuss | Manistee Catholic Central High School | Manistee |
| Roxy Sprowl | Marquette Senior High School | Marquette |
| Xavier Hernandez | Melvindale High School | Melvindale |
| Claire Newman | H. H. Dow High School | Midland |
| Faith Howell | Calvary Baptist Academy | Midland |
| David DeBacker | Detroit Catholic Central High School | Novi |
| Jacob Postell | Okemos High School | Okemos |
| Taylor Estes | Owosso High School | Owosso |
| Shelby Brown | Pentwater High School | Pentwater |
| Grace Garver | Petoskey High School | Petoskey |
| Alicia Cotter | Riverview Community High School | Riverview |
| Soja Kureekkattil | Rochester High School | Rochester Hills |
| Emily Shaver | Royal Oak High School | Royal Oak |
| India Pruette | Saline High School | Saline |
| Molly Stadler | Traverse Bay Area Career-Tech Center | Traverse City |
| Jacquelyn Wrubel | Cousino High School | Warren |
| Alyx Fifer | Wayne Memorial High School | Wayne |
| Michael Michalak | Lakeland High School | White Lake |
| Isaac Jones | Williamston High School | Williamston |
| Addison Tracy | Roosevelt High School-Wyandotte | Wyandotte |
| Kayla Halleck | Yale High School | Yale |
| Xiomara Trujillo | Early College Alliance at EMU | Ypsilanti |
About Michigan Humanities
Michigan Humanities inspires Michiganders to come together in creative and freely expressed ways to deepen our understanding of ourselves and enrich our communities. In carrying out this mission, Michigan Humanities builds awareness and excitement for humanities in everyday life, achieves best practices and sustainability for all humanities programs and services in Michigan, and upholds the following key values:
Inclusion, diversity, and equity
Discovery and understanding
Authentic conversation
Respectful collaboration
Meaningful experiences
Michigan Humanities' vision is for all people of Michigan to experience and understand the importance of humanities to enrich lives.
About Poetry Out Loud
Poetry Out Loud encourages students to learn about great poetry through memorization and recitation. This program helps students master public speaking skills, build self-confidence, and learn about literary history and contemporary life. Since 2005, Poetry Out Loud has grown to reach more than 3.6 million students and 55,000 teachers from 14,000 schools in every state, Washington, DC, the US Virgin Islands and Puerto Rico.
PHOTO CREDIT: DAVID TRUMPIE / TRUMPIE PHOTOGRAPHY